Discussion Starter
·
#1
·
Hello all
The first 2000 kilometres in the V6 tdi is done, this must be equal to 1250 miles. I am very happy with the driving quality in all respects, but there is a few "buts". After exactly 1000 miles equal to 1600 kilometres, I had to add 0,6 litres of oil.
Now some will say, 0,6 litres, what is that ? Compared to a Land-Rover Defender it's peanuts, compared to a VW Passat 130 tdi it's the same, but compared to a Toyota RAV 4..its wrong. The oilconsumption on the RAV was one litre after 9375 miles.
3 days ago I went to the airport and during the drive I should try the frontlight washers for the first time...the right hand side nozzle simply blew off, so now I have a hole in the bumper. If I look into the hole there is a "another hole" looking like a horseshoe..a new nozzle is ordered.
In Denmark we have a speedlimit of 50 kilometres pr hour equal to 31,25 miles in towns and cities. I find it difficult to make the autogear work "the right way" at that speed, so I tend to use the tiptronic in cities.
Beside from all that, I enjoy heavily that neighbours are showing interest in the new vehicle, some even suggest that we should discuss it over "sharing" two beers (which they bring, I bring the second round).
The new "puppy" arrived friday, and have inspected the "Facilitys":
Here is "Drago" 8 weeks old, 8 kilos heavy. Samson do not like him, that's for sure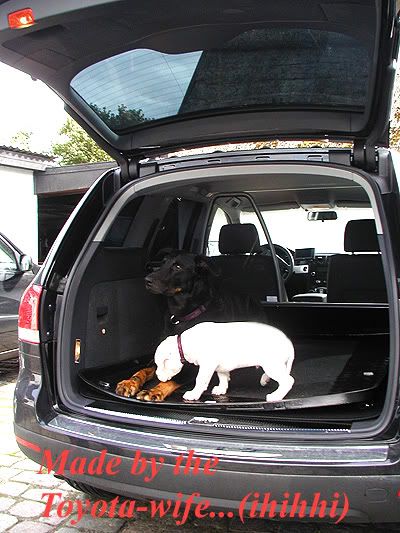 Kind regards
Viking